Edited to include pictures courtesy of Gondai.

I have no idea how to start writing this post. But I know that what I felt last night was something worth sharing.

As I'm writing this, I feel tears welling in my eyes. I've been blinded all these years. I say that I'm a Muslim, but I've never truly embraced Islam as what's been preached by the Prophet Muhammad (pbuh). Like most, I was born into the religion and I became complacent. I expected to be rewarded but don't do anything more than what bare minimum was expected of me.

But I have in the past year or so, prayed for His guidance. I began to seek out knowledge and I'm still learning. I have to thank friends and bloggers alike for all you've shared to me so far, knowingly or not.

Anyhow.

Last night, Sheikh Yusuf Estes came to our little BukitJelutong.


Deep in discussion.
I was very eager to see him, to listen to him. I have in the past month or so, been blessed with the CD of the lectures of Anwar Al-Awlaki and I find him very simple, truthful yet engaging. I particularly love the excerpts of Quran read by others and they sound so beautiful. I was listening to CD #14 where he talked about the Hellfire and the hafiz cried while reciting the Ayat. It moved me. Many thanks to Azen for lending me the CDs and to
Lollies
for pointing him out to me.
Anyways.
The kids wanted to tag along too. I had huge reservations. Mine are rowdiest between 8pm to 10pm. Outside that time, they are mostly less rowdy. Ha ha. Anyhow. We got there and after stern warnings in the car, we all sat down in the packed hall. 15 minutes in, they i.e. Ariz & Adani got restless and began to peck at each other and whine and whinge and whatever else 3yo and a5yo would do, when there's no other entertainment. There weren't other kids around anyway. That's when I got MrGart to ship them home and they gleefully obliged.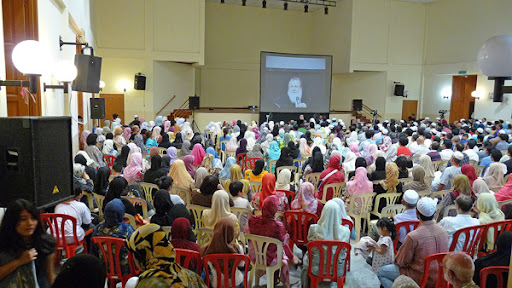 The packed hall at Jalan Adang.
Well.
The Sheikh was insightful. He was funny. He was filled with one-liners and he joked around a lot. But when he was serious, he was serious.
At one point, he asked if there was any hafiz (those who memorise the Quran) and no one did. His face turned ashen and he said that this was scary. Even in remote American towns he's been to, there would always be 3 or 4 or 5 hafizs. I shuddered.
He asked too how many of the audience were Muslims and how many weren't. Only 6 non-Muslims were present and he bellowed "Do you not care for your non-Muslim friends? Why didn't you bring them along tonight?" I was shaking my head, ashamed of myself.
As expected there was a yoga question. FYI, there's been a fatwa or edict issued in Malaysia banning Muslims from practising yoga. The question asked about how to explain the fatwa to the non-Muslims friends. Simple. You don't have to. Fatwas are issued to Muslims. Non-Muslims may do anything that they please. But Muslims, you must abide by it. And never question a scholar's issuance of a fatwa to another scholar, for second opinion. You must go back to the one who issued it for better understanding. But, above all, doubtfulness of a scholar indicates signs of disbelief and that's dangerous.
The Moment of Truth.
The defining moment for me was this young Chinese guy who posted a question and then was invited to join Yusuf on stage. He brought his Quran with him and he asked questions about them and Yusuf answered them as simple and as truthful as he could. When he uttered the Syahadah, I felt a pang of emotion in me. More like I was stabbed from the inside. It felt so strong, it emanated from my heart to my body that I quivered. I had tears in my eyes and I had to wipe them away. That was such a beautiful moment. To have been there listening to a non-believer uttering the Shahadah, I felt an undescribable joy. I do not believe I've ever felt that way ever before. Alhamdulillah.
So, there. I believe there's a point in time where one just takes a step back and re-assess one's life. I think I might have stopped dead in my track and looked back. I hope I'm not too late.
Yours truly.