I was bitten by the Gh1ilbi bug maybe 5 years ago with the Spirited Away, when Aliya was just 3-4. It was just amazing. Simple storyline, but a heck of lot exquisite detailing and phenomenal graphics.

Anyway. I bought the whole set of Ghibl1's collection wanting to watch the Graveyard of the Fireflies. I cried and I cried and I cried. Aliya & Asha cried too. It's just too harrowing and sobbingly sad. I still see the sores at the back of the sister's body before she died.

Well, during the school holidays, since we're travelling a lot, MrGart ransacked the house for DVDs we haven't watched in a while to entertain the kids on the road. So, Totoro & Pompoko were chosen. Aren't we glad he did?

I watched Pompoko before but these animes are really long, so I never get to watch it in full. So, during the trips up North and down South and everywhere in between, I managed to catch the whole movie and it's just refreshing. Shapeshifting racoon who transform to save their forests.



This was during their training. Obviously the middles racoon just couldn't transform accordingly, regardless how many times he tosses and turns. Kelakar giler!
My favourite is the Grandmother Racoon who chafed at the Gonta, the Red Army and the Blue Army for fighting against each other, instead of fighting together to save the racoon as a whole. It was really, really good. And the scene when the racoon went to spook the people, especially the part where whatever-his-name is transforms into a face-less sexy woman, crying by a roadside, spooking this policeman who in the end just plonked on the floor, out of sheer fear. That was so funny and these racoons have little discipline, not unlike us too. The go-green, save the forest message is very apt too, I thought.
Anyway.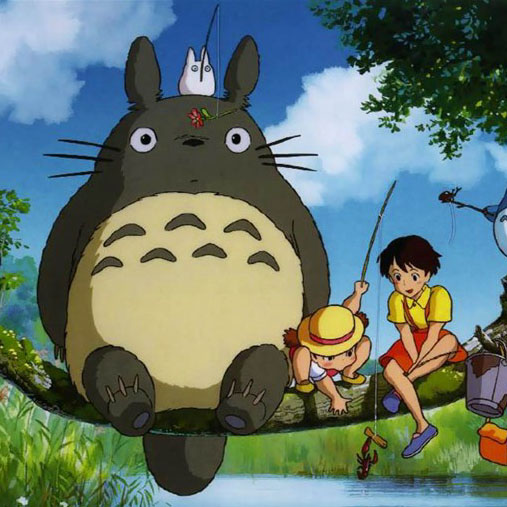 Totoro fishing with Mai & Satsuki. A picture of calm. Don't we all wanna run to the countryside and stay there? Maybe not here?
Totoro on the other hand is just calming and just feeds the imagination of children. It was uplifting to travel with Mai and her sister, to explore the mysterious camphor tree. It wasn't one without incidents tho. The ailing mother and Main went missing, thumped one's heart but it was enriching.
Ariz LOVES Totora big-time. He knows the music and even if I tried to play other movies, it wouldn't do.
Anyway. Any new anime worth watching these days ? Am dying for more.